ADD EXCITEMENT TO YOUR WEB SITE
A professionally created video can present a whole new dimension for your web site and will instill in viewers the excitement and uniqueness of your property, like no other media can.
Videos created by Midwest Captions include custom video footage, exciting music and a professional 'Voice'.
In the past, the barrier to the use of video on the Internet has been the length of time it takes to download a video at dialup speeds. In a July 2004 survey by The Nielsen Group, it was determined that over 51% of home users now have broadband (high speed) access. And it is a well known fact that over 95% of business users have broadband. So, now is the time, the time is here to create an Interactive Video of your property or business.
Click on the link below to view a promo video for the Brainerd Lakes Area. File size is around 3.4 MB and with a broadband connection, it will start to play almost immediately. This is an exciting medium for promoting your property or vacation area, but in order to get on our production schedule, you need to Contact Us Now!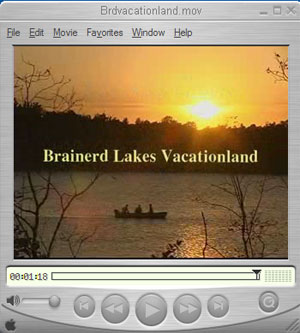 Click to download and view Video.
Contact Us for more information!